In the early days of CNC, many systems were modified to fit the existing standard machines. Nowadays, almost any machine tool is available in a CNC version, including CNC router which is widely used.
Whether you have limited knowledge of CNC routers or you already have experience using routers and want to upgrade to a more complex model, you may have questions when making some critical decisions.
Here are some frequently asked questions, especially for those who are hoping to get started with the right machine tool. We hope you find your answers here, but rest assured that help is always only an email away. Please free feel to contact us at iklestar@support.com
What is a CNC Router?
The CNC router is part of an automated machine tool line that includes milling machines, lathes(turners), grinders, and lasers. These machines require computers and software to manage their operations and use many of the same tooling found on the milling machine.
CNC routers have become popular with machine shops, kitchen manufacturers, sign makers, metal fabrication shops, and a host of other enterprises. These machines can be found in the largest industrial factories and garages of part-time hobbyists and entrepreneurs around the world.
No matter where they are used, CNC routers will reduce waste, increase efficiency, and enable their owners to create things that were considered impossible just a few years ago.
What kind of work can I do on the CNC router?
Since the CNC router is mainly (but not exclusively) used for woodworking, you can earn money from making signs, cabinet doors, musical instruments, toys, clocks, or any type of artistic pursuits for fun or profit.
If you are looking for a hobby, the CNC router is open to your suggestions, so use your imagination to design and create projects that suit your interests.
And don't think you must spend a lot of money on CNC router. There are budget-friendly "desktop" models that suitable for the hobbyist or the start-up entrepreneur.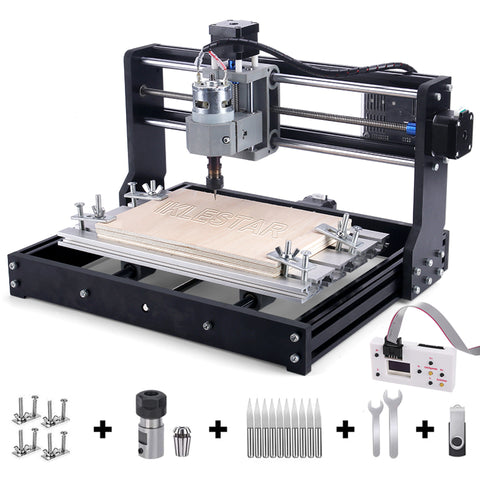 IKLESTAR CNC Router 3018-PRO Desktop Model
I keep seeing the term "axis" as I research CNC routers. What does it mean?
Axis simply refers to a direction in which the machine is moving. When the operator is facing the machine, and the worktable is moving right or left, that is called the "X" axis.
When the table is moving toward or away from the operator (in or out), that's the "Y" axis. And when the spindle, which holds the cutting tool, is moving toward or away from the work table (up or down), that is the "Z" axis.
A 3-axis CNC machine can move along all three of these axes simultaneously as it creates three-dimensional shapes.
What materials will the CNC router cut?
A CNC router can be used to cut several different materials that include:
wood
aluminum
composites
metals
plastic
foam
leather
fabrics
fiberglass
No matter which material you're using, the CNC router will offer the advantages of automation and exceptional productivity.
Must I learn a programming language such as G-Code to operate a CNC router?
No, that isn't necessary. There is software that allows you to design your parts, import drawings, and edit them. The software will generate the code that the machine uses to machine the parts.
CNC router manufacturing is compatible with several software programs.
Some of the programs used most frequently include:
Vectric VCarve (2D software)
Vectric Aspire (3D software)
Rhino (3D software)
EnRoute
Mozaik (Cabinet software)
Cabinet Vision (Cabinet software)
Why not simply use a hand-held router instead of a CNC?
This is an excellent question, but once you see what differentiates the two types, you'll realize the comparison is similar to apples vs. oranges.
Here are the CNC's main advantages:
Faster moving:

 

CNC routers move along three axes (X, Y, & Z) using a three-engine drive framework. Hand-held routers have a single cutting head, while CNCs can have multiple heads. And CNC routers can deliver intricate work in a fraction of the time. Need more reasons?


Accurate: Hand-held routers cannot produce the precision that their CNC counterparts do. Routing by hand using a template can't compete with the quality that comes from a stable and powerful CNC router.


Safer and more reliable: With a hand-held router, the operator is closer to the moving router bit, and there is always the possibility of human error. CNC routing can safely machine harder surfaces with the operator at a safer distance. Since the computer dictates all the moves, there are fewer errors, and repeatability is almost ensured.
Cost-Effective:

 

Quality CNC routers have a higher upfront cost, but over the life of the machine tool, you will save much more in efficiency, quality, safety, and productivity. It isn't even close; the CNC router is much too versatile and provides too many benefits, so the hand-held router will always pale in comparison!
Which CNC machine is right for me?
Determining which machine to purchase comes down to deciding what you want to make with it. The size, shape, and number of parts that you want to produce will aid you in choosing the right machine.
Keep in mind that the physical size of the table controls the work area on a CNC router, minus any room you need clamping, dust collection, etc.
Also, think about the future: Will you be branching out into larger items sometime down the road? If you think you'll be working with full sheets at some point, you'll need a CNC router with a work area of 4' x 8'.
CNC router machines come in all sizes and price ranges, so consider what you'll be making and how much you can afford. There is likely a CNC machine tools that meets your needs and fits your budget.